Facial Acupuncture | Anti-Aging Therapy using Naturopathic Medicine
Dr. Fiona McCulloch is a licensed Naturopathic Doctor and Registered Acupuncturist and is certified in Facial Acupuncture Renewal. 
Facial Acupuncture is a safe and effective way to both rejuvenate your face and enhance your general health. The skin will be firmed, fine lines and wrinkles reduced, and sagging skin around the neck and eyes tightened.
This is a cosmetic treatment you can feel great about treating yourself to, as you are also making a step towards better health balance in your entire body.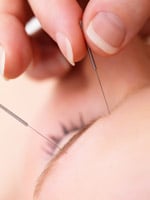 Fine needles and/or laser probes are gently placed on different points on the face.
On the face, special muscle motor points are stimulated, which cause the face to lift itself and tone up, resulting in a more youthful appearance. Tiny intradermal needles are used to help regenerate collagen and reduce fine lines.Some fine lines can be entirely eliminated. The needles stimulate blood circulation and detoxification throughout the facial skin, giving your skin better tone and colour.
Internal imbalances in the systems of your body are always treated at the same time by using body acupuncture points customized to your condition, as the health of your body reflects in your face.
When patients finish a series of Constitutional Facial Acupuncture, they usually report improvements in their health concerns in addition to the improvements in their appearance!
Treatment Schedules for Facial Acupuncture
A series of treatments is necessary to achieve the best effect. Occasional treatments may improve the skin and appearance for a time but will not achieve the more dramatic results of completing a series.
Variables such as stress, diet, lifestyle, genetics, proper digestion, sleep, emotional balance, and age, can affect the number of treatments needed, but usually we recommend:
A series of 10-15 treatments


20 treatments for smokers or people whose skin tends to sag, i.e., who manifest jowls, droopy eyes, etc.
Age is not the most important factor; an older patient with a healthy lifestyle may in fact have a better prognosis than a younger person who does not.
Initial Treatment Timeline
For the first period of recommended treatments, the schedule is 1 treatment per week, at 60 minutes each.
Within the normal parameters of aging, the completion of a series of treatments should be effective. To ensure that you keep the results you have achieved, we also recommend some maintenance treatments.
After the first block of treatments, we recommend every 2 weeks for 2 months following the completion of a treatment series and then once a month for an indefinite amount of time.
Contact us via our website or call the clinic at 416-730-8218 to book your first session for Facial Acupuncture or Laser Rejuvenation.
Facial Acupuncture Renewal Treatments/Facial Laser Rejuvenation
We also offer naturopathic supplements that provide anti-aging qualities to complement our facial acupuncture programs.