Acupuncture in Toronto: Safe and Effective Care
Licensed and Registered Acupuncture Treatments
Acupuncture in North York, Toronto with a Gentle, Modern Approach
As one of the longest-established integrative clinics in Toronto, acupuncture has been one of our main treatment offerings for over 20 years.
Daryl Fang, RAc has over 12 years of clinical experience and is our primary Registered Acupuncturist. She is licensed in Ontario by the College of Traditional Medicine Practitioners and Acupuncturists, and offers over 12 years of clinical experience treating fertility (natural and IVF acupuncture), women's health concerns, PCOS, pain and general health.
Acupuncture can work on its own or in conjunction with other medical treatments to provide the best results for patient care.
Our acupuncture treatments include: clinical acupuncture (needling), cupping therapy, and warm, comforting moxibustion treatments.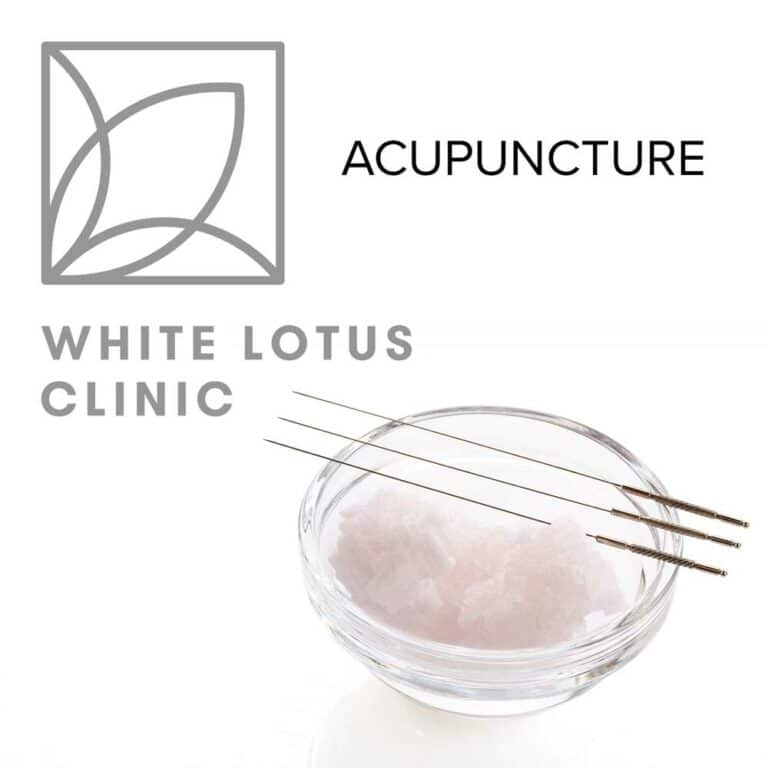 Our Toronto clinic offers Acupuncture to support the following conditions :
Fertility (assisted or natural support)
Pregnancy Health and Labour Induction
Women's Health Concerns (endometriosis, PCOS, and Period Problems)
Postpartum Recovery
Menopausal Symptoms and Hot Flashes
Sinusitis and Migraines
Fatigue
Stress Relief
Musculoskeletal and joint pain or injury
Gut Health and IBS
Anxiety, Depression, Insomnia
Sinusitis and Migraines
Allergies and Hay Fever
Cosmetic Acupuncture
Our clinic is conveniently located near the Yonge and Sheppard Subway lines in North York, and the Bayview 401 exit.
Book a Free 15m call with Daryl Fang RAc.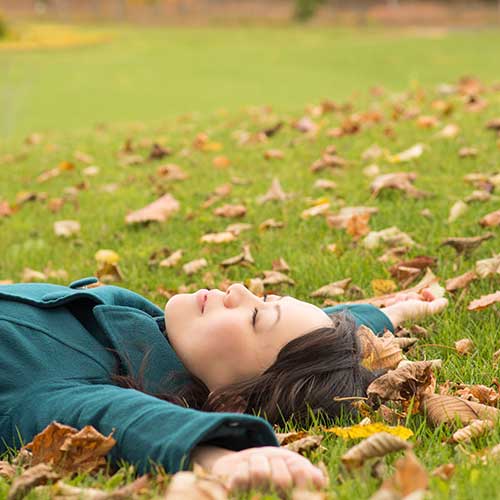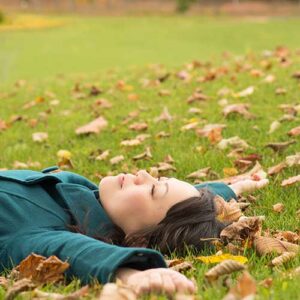 Acupuncture is a safe, effective and regulated form of medical care that is effective for a variety of health conditions. Although it involves the gentle insertion of tiny needles, it is surprisingly relaxing and most patients at our clinic experience minimal discomfort during treatment if any!
Most patients experience a feeling of happiness and relaxation after a good acupuncture session. The "feel-good" effect of acupuncture is measurable and likely related to factors like beta-endorphin release(1) increased blood flow (2), anti-inflammatory effects (3) effects on the autonomic nervous system and brain multisensory processing (4) to name just a few!
Our Registered Acupuncturists use sterile, high-quality, fine acupuncture needles to treat specific acupoints located on the back, arms, hands, legs, feet, stomach or ear. Nerves and blood vessels around acupuncture points respond to the presence of the needle. With the needles in place, the patient then rests for a period of 20-45 minutes, allowing further physiological responses to occur.
The many different beneficial effects of acupuncture have been measured in research with doppler ultrasound, functional MRI, EEG and lab testing. Acupuncture points produce significant and measurable physiological responses that can benefit a variety of health conditions.
Acupuncture and Scientific Evidence: Is There Proof Acupuncture Works?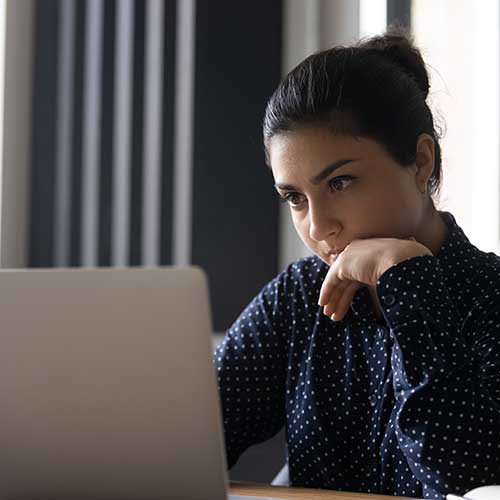 There have been extensive studies conducted on acupuncture to date.  The benefits of acupuncture treatment vary depending on the condition, however, it's been found that a wide range of health concerns respond well to treatment.
The World Health Organization recognizes acupuncture as a safe and effective treatment for multiple conditions.
And the evidence is growing –  1000 systematic reviews and over 13,000 studies have been conducted on acupuncture with the rate of research growing rapidly over recent years (5).
The Acupuncture Evidence Project found evidence that acupuncture may benefit 117 different conditions.
"Acupuncture is considered safe in the hands of a well-trained practitioner and has been found to be cost-effective for some conditions. The quality and quantity of research into acupuncture's effectiveness is increasing." (5)
There is ongoing work to build acupuncture research and to determine which conditions can benefit from this treatment. A 2022 publication British Medical Journal identified 120 systematic reviews published in the last 5 years addressing acupuncture therapies across 12 therapeutic areas and 77 diseases and conditions (6).
The authors concluded that substantial benefits were seen with acupuncture treatment in particular for neurological conditions, mood and mental health, obstetrics/gynecology and women's health, pregnancy, musculoskeletal pain and digestive concerns. The authors also concluded that were many promising effects of acupuncture on other conditions that would warrant further research.
Do Acupuncture Needles Hurt?
Before experiencing acupuncture, many patients are concerned that the needles might cause pain or that they are large in size.
Our Registered Acupuncturist, Daryl Fang explains more about the unique qualities of acupuncture needles below. .
If you've ever had a blood draw, the needles are 0.819mm wide on the outside and the opening of the needles itself is around 0.514mm wide.

A standard acupuncture needle is under 1/3rd of that size at .25mm wide - less than the opening of a standard blood draw needle!

And, our high-quality acupuncture needles can go as low as .14mm wide (around the size of a human hair)!

The location of acupuncture points is another reason patients experience minimal discomfort with treatment. Acupuncture needles are never inserted into painful areas such as veins (which is one reason blood draws can be so painful.

Instead, acupuncture needles are gently and swiftly placed into the skin where there is far less discomfort.
Your acupuncturist will explain what to expect every step of the way based on the points chosen for treatment. Questions are welcome and encouraged, we want you to feel relaxed and enjoy your treatment!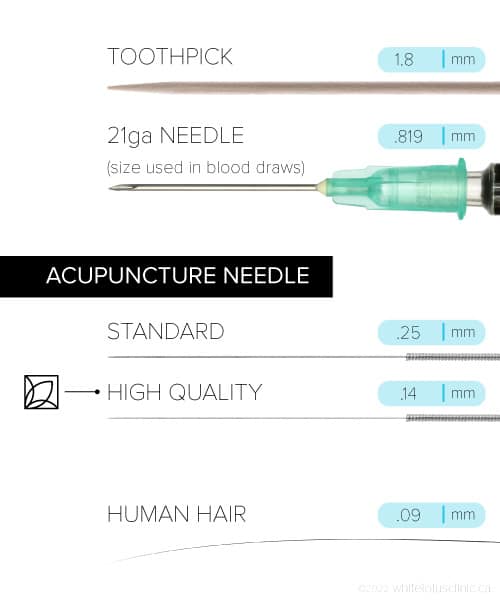 A call button is always within your reach in case you need to call in your practitioner for any reason during treatment.
Our rooms also include table warmers, gentle music and comforting infrared heating lamps for comfort and therapeutic effects. Most patients find the experience deeply relaxing and calming! 

How Do I Start Acupuncture and How Many Treatments Are Needed?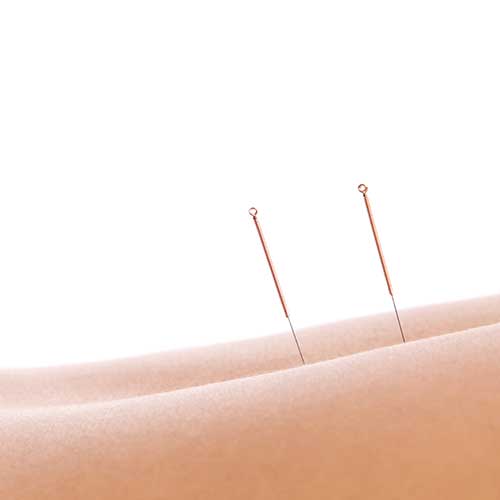 Acupuncture treatment begins with a consultation about your health and symptoms.  Your acupuncturist will ask questions about your health, your goals for treatment and responses to treatments in the past.  Your acupuncturist will then complete a TCM (Traditional Chinese Medicine) Diagnosis, including tongue and pulse diagnosis.
Your Acupuncturist will then discuss a personalized treatment plan including how often to get acupuncture and how many treatments will be needed. A common schedule for acupuncture is a series of weekly treatments. In addition to determining an optimal schedule for treatment, your acupuncturist will discuss the outcomes to expect from your course of treatment.
Once you begin your acupuncture series, you'll complete treatments at the frequency recommended by your practitioner which includes a short assessment before each treatment to assess your progress or changes to your health. 

Get a 15m call with an Acupuncturist (no charge)
Frequently Asked Questions about Acupuncture
Is Acupuncture Covered by OHIP?
Acupuncture is not covered by OHIP in Ontario. For our acupuncture patients local to Toronto, many extended health care insurance plans do offer acupuncture benefits. Since this varies from plan to plan, we recommend that you contact your insurance provider to see if you have coverage for registered acupuncture. Our clinic can check for certain insurance providers through our automated system to see if you have coverage.
We offer direct billing for acupuncture for many insurance companies including Canada Life, Manulife, Desjardins, Claimsecure and more through Telus Eclaims.
For insurance providers who don't offer direct billing, we will provide an official receipt so this can be claimed by the patient.
Check with your insurance provider to see if you have insurance. Our clinic can also check to see if you have coverage through our system!
Is Acupuncture Covered By Extended Insurance Plans for Patients In Toronto, the GTA or Ontario?
As detailed above, many insurance providers in Toronto and the GTA do cover acupuncture treatment. Since each plan is different, contact your insurance provider to learn if you have coverage.
Does Acupuncture Work?
Acupuncture has been studied extensively and found to reduce inflammation and pain, increase blood flow, modulate hormones and neurotransmitters to help conditions such as (but not limited to): PMS/PMDD, irregular periods, irregular ovulation, fertility (natural or assisted), depression, anxiety and mood disorders, digestive issues ( IBS, constipation or irregular bowel movements), and symptoms that are common in perimenopause and menopause.
What illnesses can be treated by acupuncture?
Acupuncture has been found effective for a variety of conditions including women's health and gynecological conditions, fertility, PCOS, musculoskeletal pain including neck pain, lower back pain, knee pain, tendonitis, carpal tunnel syndrome, migraines, allergic rhinitis and hay fever. It has also been found helpful for the neurological system and brain benefitting conditions such as migraines, insomnia, and chronic pain such as fibromyalgia. If you would like to know if acupuncture can help with your condition, please reach out to us and book a free 15-minute meet and greet with our acupuncturist!
What are the benefits of acupuncture?
Benefits of acupuncture include better mood, improved circulation, reduced pain, improvements in hormones and regulation of menstrual cycles, fertility enhancement, and better sleep. An overall sense of relaxation and wellness is common after receiving treatment!
Does Acupuncture Have Side Effects?
Side effects of acupuncture are generally might but might include: bruising or mild, temporary swelling where needles are inserted, deep relaxation that sometimes can result in temporary fatigue and longer than usual hours of sleep following the first treatment or two. In rare cases, fainting is possible but typically patients who experience this have a history of fainting with needles. Even these patients can receive acupuncture carefully and safely when lying down in the proper position. Always communicate with your practitioner about any side effects or concerns you may have so we can support you best.
When Acupuncture is performed by a regulated healthcare professional (such as a Registered Acupuncturist or TCM Practitioner), it is a safe and relaxing procedure.
What are the risks of acupuncture?
The risks of acupuncture are ultimately the same as the highlighted side effects and are generally very mild. Although most patients experience no bleeding or bruising, there may occasionally be light bruising or swelling around the needle. Pneumothorax (collapse of the lung requiring immediate medical attention) is one of the more serious risks of acupuncture but this is exceptionally rare and often occurs when acupuncture is not completed by a regulated practitioner who accidentally inserts a needle incorrectly. This is not something that would occur with a properly trained skilled practitioner. We also hear cases of pneumothorax when dry needling (inserting acupuncture needles into trigger points) is performed by practitioners who are not specifically trained in acupuncture. It is very important to see a regulated and properly trained provider in order to prevent risks and side effects. Our acupuncturists complete years of training and education and meet the ongoing stringent licensing requirements of the College of Traditional Chinese Medicine Practitioners and Acupuncturists of Ontario.
Another risk of acupuncture is infection. We use sterile, single-use, sealed acupuncture needles and clean field technique to eliminate any risk of infection at the clinic. Acupuncture needles should never be reused and should always be sterile. Always ask your provider if they use sterile, single-use acupuncture needles for patients before considering treatment.
At our clinic in Toronto, we have also implemented a thorough sterilization and room cleaning process that has been developed while treating acupuncture patients throughout the pandemic.
How long does acupuncture last?
Acupuncture treatments take 30-45 minutes per session. Initial assessments require a bit more time as we assess symptoms, goals and medical history in detail. Our acupuncture initial assessments are 1 hour and standard follow-up treatments are 45 minutes.
Does acupuncture hurt?
Acupuncture is a relatively painless procedure and many patients experience no discomfort at all. In certain areas of the body (in particular the extremities like the hands and feet), there may be more sensation due to excitatory nerve endings. Acupuncture needles are inserted in the superficial layer of the skin (no more than 1/4″) and most patients report a feeling of heaviness, tingling or weightlessness at the site of insertion. I
n other areas of the body (mostly the middle and trunk), there are fewer excitatory nerve endings and the feeling of the acupuncture needle is often described as a gentle throb, a localized heaviness or, even no sensation in some cases. Most acupuncture patients report that they are very relaxed within a few short minutes into their treatment and that very little sensation can be felt by the end of their treatment.
What kind of acupuncture needles are used?
Our acupuncturist use only high-quality, sterile, single-use, disposable stainless steel needles. We use premium quality needles that are coated with a silicone tip, ensuring a smooth relaxing treatment. Needles are blister-packed, and used only once to meet the strict safety and hygiene requirements are met under the College of Registered Acupuncturists or TCM Practitioners of Ontario. Our acupuncture needles are as thin as the shaft of a hair and extremely light resulting in little discomfort once placed in acupuncture points on the body.
Recent articles on Acupuncture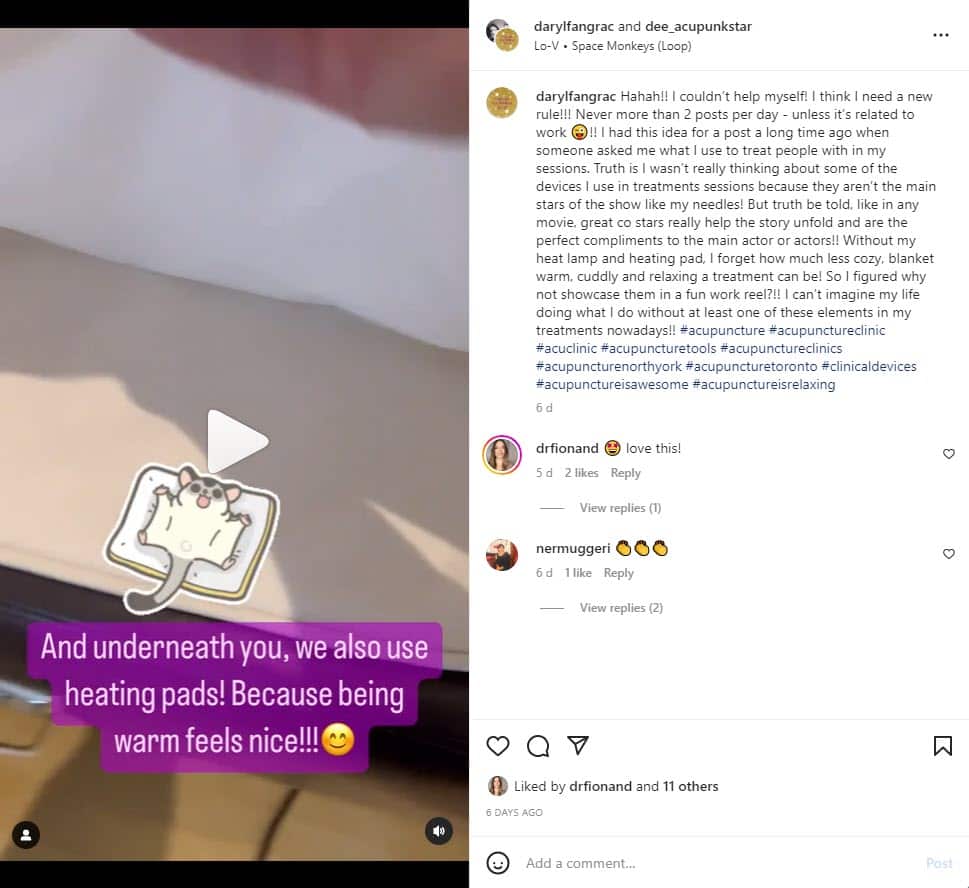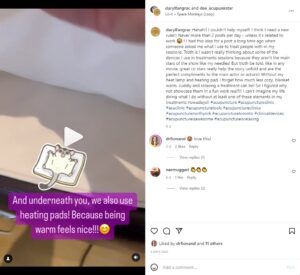 acupuncture

View this post on Instagram A post shared by Daryl Fang RAc (@darylfangrac) Keeping you
Read More »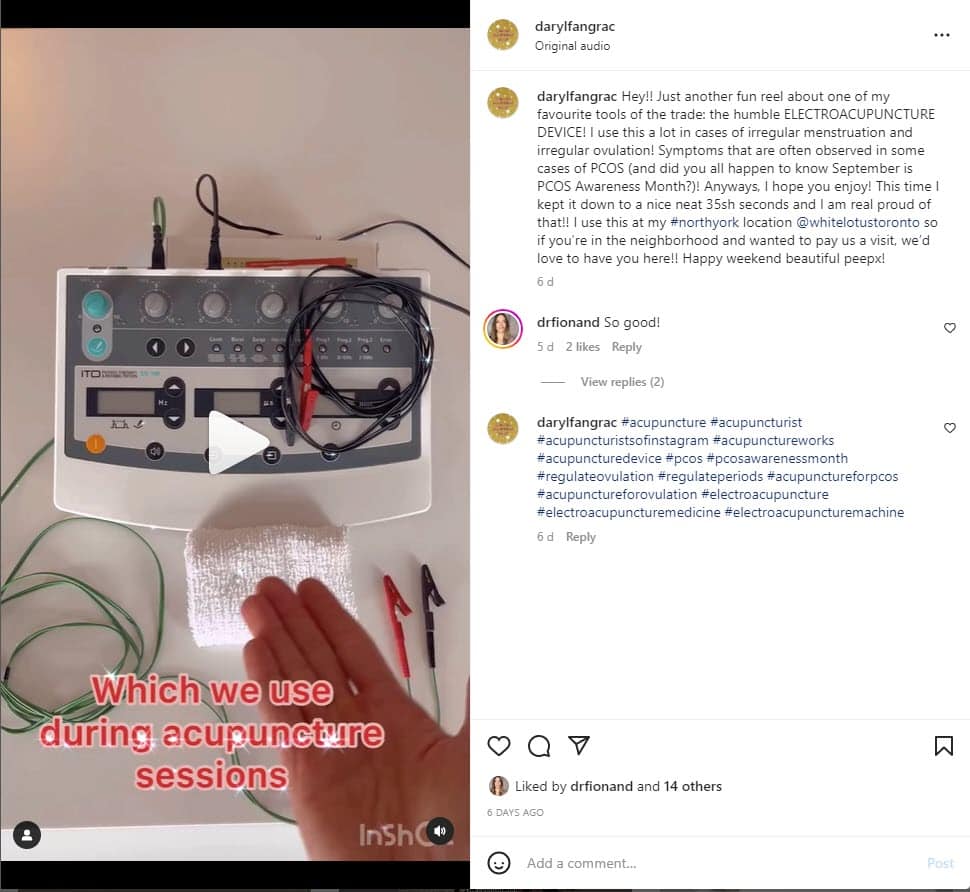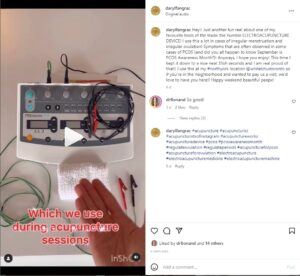 acupuncture

View this post on Instagram A post shared by Daryl Fang RAc (@darylfangrac) Learn About
Read More »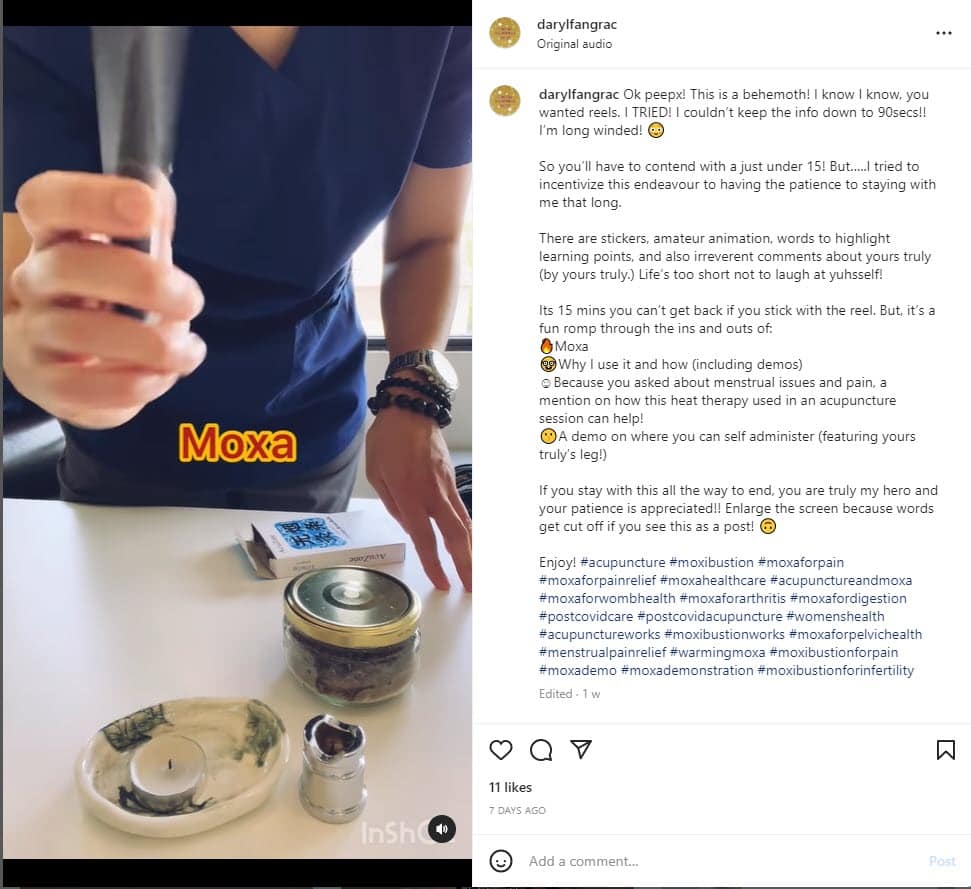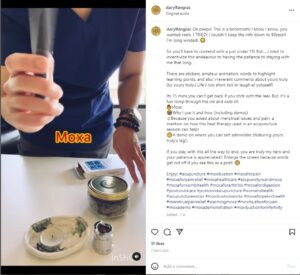 acupuncture

View this post on Instagram A post shared by Daryl Fang RAc (@darylfangrac) Dayrl Fang
Read More »