A Simple Way to Reduce Testosterone in PCOS: Omega-3 Fatty Acids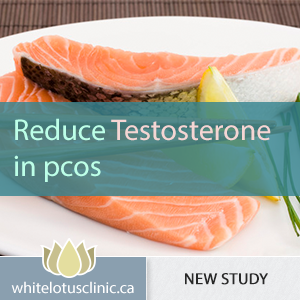 Omega-3 fatty acids reduce testosterone in PCOS, improve menstrual regularity, hirsutism and hormone levels.
Polycystic ovary syndrome (PCOS) is the most common endocrine disorder of women in their reproductive years 1, 2. For those of us who have PCOS, or know someone who has PCOS, we understand that many features of this disorder can have significant impact not only on our physical health, but can also lead to significant emotional distress. The elevated androgen levels that commonly go hand-in-hand with a diagnosis of PCOS, and can lead to cystic acne, increased facial or body hair, irregular periods, and subfertility, can be particularly troublesome. Previously we have described other strategies for improving the symptoms of PCOS. 
Two recent studies on the use of Omega-3 poly unsaturated fatty acids (fish oil) in PCOS produced impressive results. The first study evaluated the effect of Omega-3 supplementation on androgen levels and gonadal function 3. In this double-blind clinical trial, 78 women with PCOS were randomized to receive either 3 grams of Omega-3 or placebo for 8 weeks. Supplementing with this dose of Omega-3 was found to significantly lower testosterone levels and also to improve menstrual regularity. At the end of the 8 weeks, 47% of women receiving fish oil supplementation were having regular periods, as compared to only 23% in the control group 3.
A second clinical trial, also completed in 2013, found equally encouraging results 4. In this study, 45 women with PCOS were given 1.5 grams of Omega-3 oils for 6 months. Although the dose of fish oil was half of that in the above mentioned study, the results were impressive! After 6 months, LH and testosterone levels dropped, and a significant improvement in hirsutism (abnormal hair growth), BMI and insulin resistance was noted in the group who received Omega-3 4.
The dose of Omega-3 in these studies varied from 1.5-3 grams per day. Food sources containing significant amounts of omega-3 are primarily limited to cold-water fatty fish: salmon, mackerel, anchovies and sardines. Here is a neat guide to safe fish choices http://www.nrdc.org/health/effects/mercury/guide.asp. However, it should be noted that in order to reproduce the effects found in these studies, a high-quality and purity fish oil supplement is recommended, as achieving a significant daily dose of Omega-3 from food sources is not likely achievable.
In summary, Omega-3 fatty acids have shown to impart significant benefits not only in blood markers of PCOS, by lowering testosterone levels and improving insulin resistance, but over the course of 2-6 months have also been shown to improve menstrual regularity, BMI and hirsutism, important clinical features of this disorder.
Ravn P, Haugen AG, Glintborg D. Overweight in polycystic ovary syndrome. An update on evidence based advice on diet, exercise and metformin use for weight loss. Minerva Endocrinol. 2013 Mar;38(1):59-76.
Hardy TS, Norman RJ. Diagnosis of adolescent polycystic ovary syndrome. Steroids. 2013 Apr 24. pii: S0039-128X(13)00093-7. doi: 10.1016/j.steroids.2013.04.011.
Nadjarzadeh A, Dehghani Firouzabadi R, Vaziri N, Daneshbodi H, Lotfi MH, Mozaffari-Khosravi H. The effect of omega-3 supplementation on androgen profile and menstrual status in women with polycystic ovary syndrome: A randomized clinical trial. Iran J Reprod Med. 2013 Aug;11(8):665-72.
Oner G, Muderris II. Efficacy of omega-3 in the treatment of polycystic ovary syndrome. J Obstet Gynaecol. 2013 Apr;33(3):289-91. doi: 10.3109/01443615.2012.751365.