Ontario Wheatgrass | Wheatgrass for Fertility
At White Lotus we now offer fresh, living wheatgrass, one of nature's most beneficial superfoods.  Wheatgrass is mentioned by Dr Randine Lewis in  "The Infertility Cure" as a food she recommends for enhancing fertility and follicle development.You do not have to be a patient to order wheatgrass juice through us.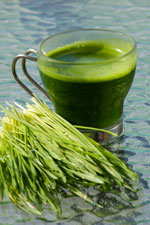 Our wheatgrass is sourced from a premier Ontario wheatgrass specialty farm, is outdoor grown to eliminate mould and increase chlorophyll content, is 100% organic, and non-GMO.  This is potent raw, and living juice of the highest quality. Powdered wheatgrass has only 2% of the bioavailability of fresh juice, so if you want the health benefits you have to get the fresh juice! Our Ontario wheatgrass is sourced through Dynamic Greens, a premium family farm. Delivery is included, and you'll receive your order within 1-3 days (there is no delivery on Mondays).
Ontario Wheatgrass: How it is Packaged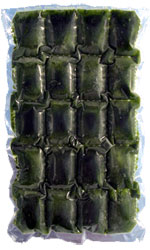 The wheatgrass juice arrives in flash frozen cubes, in BPA-free packaging, and is insulated to keep it frozen until you arrive home. Buying in bulk results in a significant savings compared to buying fresh wheatgrass juice at a store, which can cost around $3-4 per ounce.  Just defrost cubes as you need, and enjoy premium, high quality organic Ontario wheatgrass juice conveniently and quickly.
We recommend 1-2 cubes daily to optimize health.