Top 3 Supplements to Improve Egg Quality
Recently I wrote an article detailing the many factors that impact egg quality and egg reserve as well as how these can be estimated using blood work and imaging. If you haven't read this article, go back and read it first here before diving into how to improve egg quality!
Has egg quality been identified as a contributor to your fertility journey? If so, many supplements have been found to make an impact. The majority of these supplements work primarily as antioxidants, reducing the oxidative damage that impacts egg health. Oxidative damage is one of the primary reasons that eggs reduce in quality. This is in addition to age, poor diet and lifestyle choices, and autoimmune disease such as endometriosis.
Remember that a key window of the maturation of an ovarian follicle takes around 3 months. As a result, it can take a similar period to improve egg quality, though you may see some improvements along the way. Folliculogenesis – the process of the follicle maturing from its tiniest state — starts around a year in advance so the earlier you work on this the better!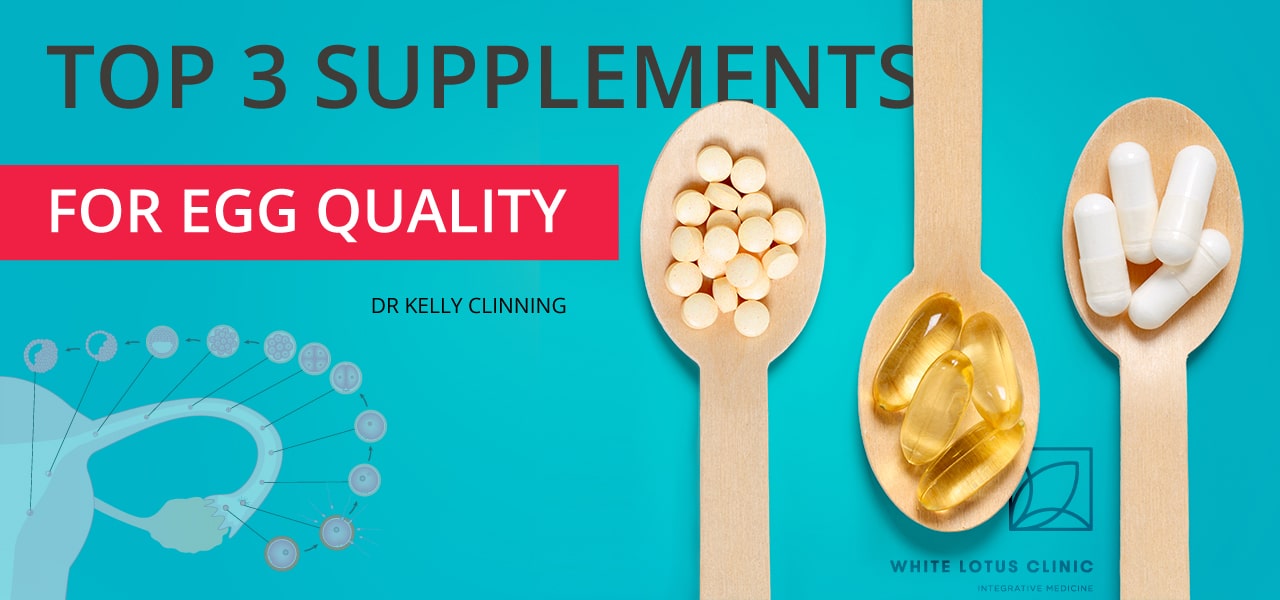 CoQ10
One of the most well-researched supplements to improve egg quality is CoQ10. This is an antioxidant that plays an essential role in mitochondrial energy production. A woman's eggs are the largest cells in the human body, and are very dense with mitochondria.
In older women's eggs, the enzymes that produce CoQ10 are reduced1. This in turn leads to reduced follicular fluid levels. Studies have found that oral supplementation of CoQ10 can reduce aging-induced oxidative damage to eggs by reducing superoxide and DNA damage levels2.
Melatonin
Melatonin is most famously known as the sleep hormone, but it has many other benefits in the body as well. Melatonin is one of the strongest antioxidants, and receptors for it are found within the ovaries. Supplementing with melatonin has been found to improve egg quality, improve embryo quality, and increase fertilization rates in women undergoing IVF3,4,5,6.
Myo-inositol
This is more commonly known for its benefits in improving insulin sensitivity and lowering testosterone in PCOS. That said, myo-inositol also impacts egg quality. Most studies have looked at a combination of myo-inositol with melatonin together. One study found that a combination of these two supplements given to women with low egg quality and a poor response to IVF lead to very positive results. These include a statistically higher number of mature oocytes, improved fertilization rate, and improvements in the number of both total and top-quality embryos transferred7.
Another study found that myo-inositol supplementation alone increased follicle size as well as the number of oocytes retrieved in IVF in women with PCOS8.
Key Takeaways from this article
Oxidative stress is one of the primary factors in egg quality issues. This occurs due to age, poor diet and lifestyle choices, insulin resistance and autoimmune disease such as endometriosis.
If egg quality has been identified as a contributor to your fertility concerns,  supplements can make an impact. The majority of these supplements function primarily as antioxidants.
Remember that the process of folliculogenesis, the maturation of an ovarian follicle, takes around 3 months. It can take this amount of time to improve egg quality.
Our general library of articles on Naturopathic approaches to fertility contains several articles covering a variety of fertility-related topics. These range from natural fertility to ways to increase success rates for IVF. We also cover coping with fertility stress. We've spent many years working with patients on this journey and we understand how difficult this journey can be. 
These articles are here for you and we hope they can help you on your fertility journey.
And of course, if you are in Ontario or the greater Toronto area and are ready to get a naturopathic perspective, you can read more about how we treat and assess fertility concerns at the White Lotus clinic.
1 Ben-Meir, A., Burstein, E., Borrego-Alvarez, A., Chong, J., Wong, E., Yavorska, T., Naranian, T., Chi, M., Wang, Y., Bentov, Y., Alexis, J., Meriano, J., Sung, H., Gasser, D., Moley, K., Hekimi, S., Casper, R. and Jurisicova, A. (2015). Coenzyme Q10 restores oocyte mitochondrial function and fertility during reproductive aging. Aging Cell, [online] 14(5), pp.887-895.
2 Zhang, M., ShiYang, X., Zhang, Y., Miao, Y., Chen, Y., Cui, Z. and Xiong, B. (2019). Coenzyme Q10 ameliorates the quality of postovulatory aged oocytes by suppressing DNA damage and apoptosis. Free Radical Biology and Medicine, [online] 143, pp.84-94.
3 Nishihara, T., Hashimoto, S., Ito, K., Nakaoka, Y., Matsumoto, K., Hosoi, Y. and Morimoto, Y. (2014). Oral melatonin supplementation improves oocyte and embryo quality in women undergoing in vitro fertilization-embryo transfer. Gynecological Endocrinology, [online] 30(5), pp.359-362.
4 Batıoğlu, A., Şahin, U., Gürlek, B., Öztürk, N. and Ünsal, E. (2011). The efficacy of melatonin administration on oocyte quality. Gynecological Endocrinology, [online] 28(2), pp.91-93. Available at: https://www.tandfonline.com/doi/full/10.3109/09513590.2011.589925.
5 Takasaki, A., Nakamura, Y., Tamura, H., Shimamura, K. and Morioka, H. (2003). Melatonin as a new drug for improving oocyte quality. Reproductive Medicine and Biology, [online] 2(4), pp.139-144.
6 Tamura, H., Takasaki, A., Miwa, I., Taniguchi, K., Maekawa, R., Asada, H., Taketani, T., Matsuoka, A., Yamagata, Y., Shimamura, K., Morioka, H., Ishikawa, H., Reiter, R. and Sugino, N. (2008). Oxidative stress impairs oocyte quality and melatonin protects oocytes from free radical damage and improves fertilization rate. Journal of Pineal Research, [online] 44(3), pp.280-287.
7 Unfer, V., Raffone, E., Rizzo, P. and Buffo, S. (2011). Effect of a supplementation with myo-inositol plus melatonin on oocyte quality in women who failed to conceive in previous in Vitro fertilization cycles for poor oocyte quality: a prospective, longitudinal, cohort study. Gynecological Endocrinology, [online] 27(11), pp.857-861.
8 Ciotta, L., Stracquadanio, M., Pagano, I., Carbonaro, A., Palumbo, M. and Gulino, F. (2011). Effects of myo-inositol supplementation on oocyte's quality in PCOS patients: a double-blind trial. Eur Rev Med Pharmacol Sci., [online] (5), pp.509-514.